What is CMINE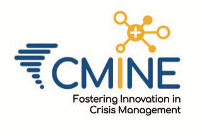 The
Crisis Management Innovation Network Europe (CMINE)
is a thriving community of more than a thousand Disaster Resilience experts from every walk of life. Academics, practitioners, policy-makers and industrial leaders, all with one common purpose – creating successful and robust innovation to improve the security of our societies.
Created by H2020 with the support of the key EU agencies and directorates, CMINE is a non-profit platform linking projects and providing a common space for developing ideas as well as sharing basic resources to help avoid every project creating its own.
Many successful Projects are using it as an additional communication and dissemination tool and to help them link with like-minded teams with overlapping interests. A dedicated CBRNe group has been set up for colleagues to interact, discuss and post information about events and other areas of interest.